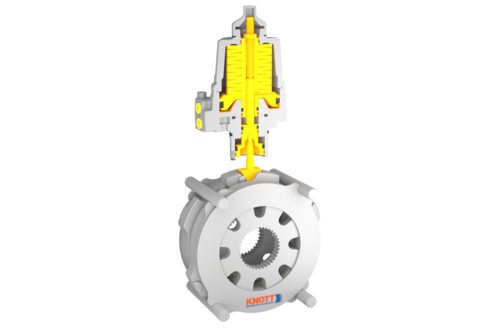 Wet Multi-Disc Brakes
The KNOTT oil-bath multi-disc brakes operate according to the ball ramp principle and are available as multi-servo and mono-servo versions. The actuation can take place using a pressure wedge, tension wedge or a pull tab principle. Various friction material qualities, the number of discs, as well as differing ramp and wedge angles allow for a wide range of variants. Thereby, braking performance and braking comfort can be fine-tuned to meet the demands of a given vehicle.
Combined with suitable KNOTT actuation cylinders, service brakes as well as parking and auxiliary brakes may be realised, that are either manually actuated, power assisted or use a power braking system. Not only mechanical or hydraulic, but also a combined hydraulic-mechanical or a spring-loaded cylinder actuation is possible. This allows not only a pure parking or service brake function, but also combinations of service, parking and auxiliary braking functions.
Wet multi disc brakes are mainly used in agricultural tractors, harvesters, forestry machines and construction equipment.
Available sizes:
Pull-actuated - Ø 5,6" to 9,5"
Push-actuated - Ø 6,5" to 16"
Do not hesitate to approach us with your project for detailed technical specifications and support.